南素里/白石最新楼盘
The Collection at Orchard Grove 精品独立屋项目
Updated July 18, 2017
The Collection at Orchard Grove is a new single family home development by Ikonik Homes currently in preconstruction at 168 Street, Surrey. The Collection at Orchard Grove has a total of 18 units.
由著名独立屋开发商Ikonik Homes打造的精品独立屋项目,位于素里南部168街,风景优美,总共仅有18个单位。
​​​Style: 18 new single family homes in South Surrey
City: South Surrey, BC
Register: orchardgrovecollection.com
Location: 168 Street & 25 Avenue, South Surrey
Developer: Ikonik Homes
南素里精致townhouse大型社区SOHO
Updated July 18, 2017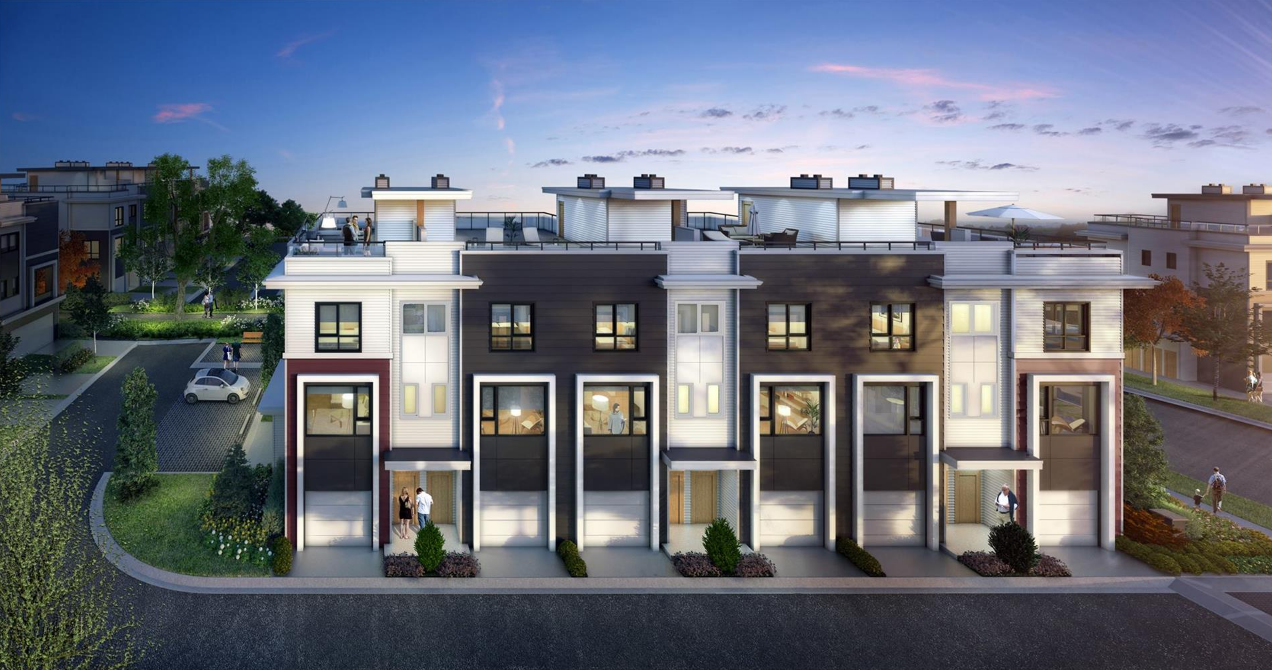 Soho是Zenterra目前正在建设中的一个新的联排别墅开发项目,位于24街夹163 Ave的内街,南素里。总共开发170个单位,之前几批中小户型单位已经很快售罄,目前正公开发售最后一批大户型保留单位,共有7个不同户型的30余个单位在售之中,是您在这个南素里屡获大奖热门城市屋项目里置业的最后也是最好的机会!单位将于2017年10月全部建成入住,机会难得!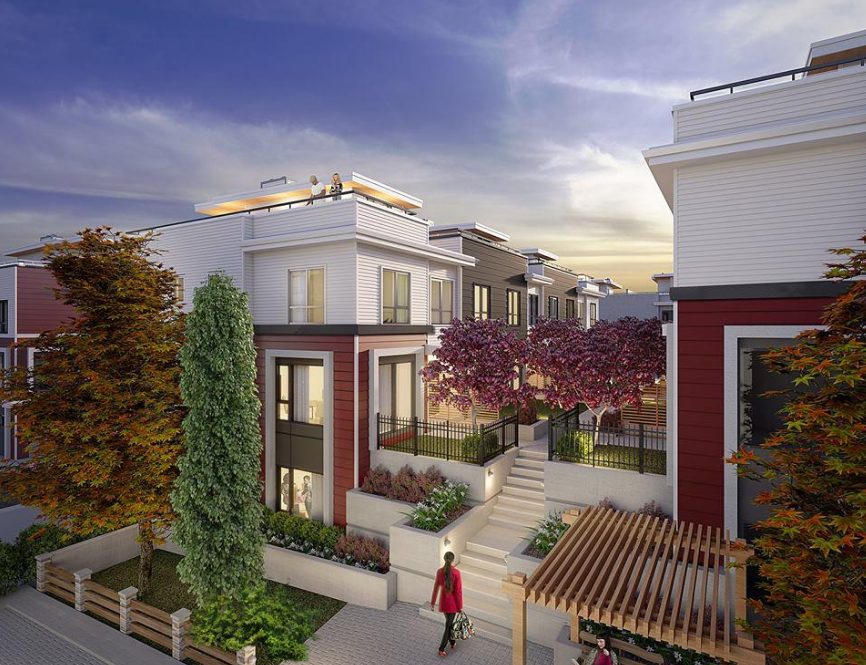 楼盘位于内街,环境佳,生活交通便利。东边就是马上就要竣工的游泳馆健身中心,向西驱车两分钟Grandview Corners 商户群,大超市,bestbuy, home depot都在附近。驱车西南就是南素里排名非常靠前的Semiahmoo中学,向南驱车几公里即可到达风景优美宜人的度假胜地白石镇!升值潜力空间很大!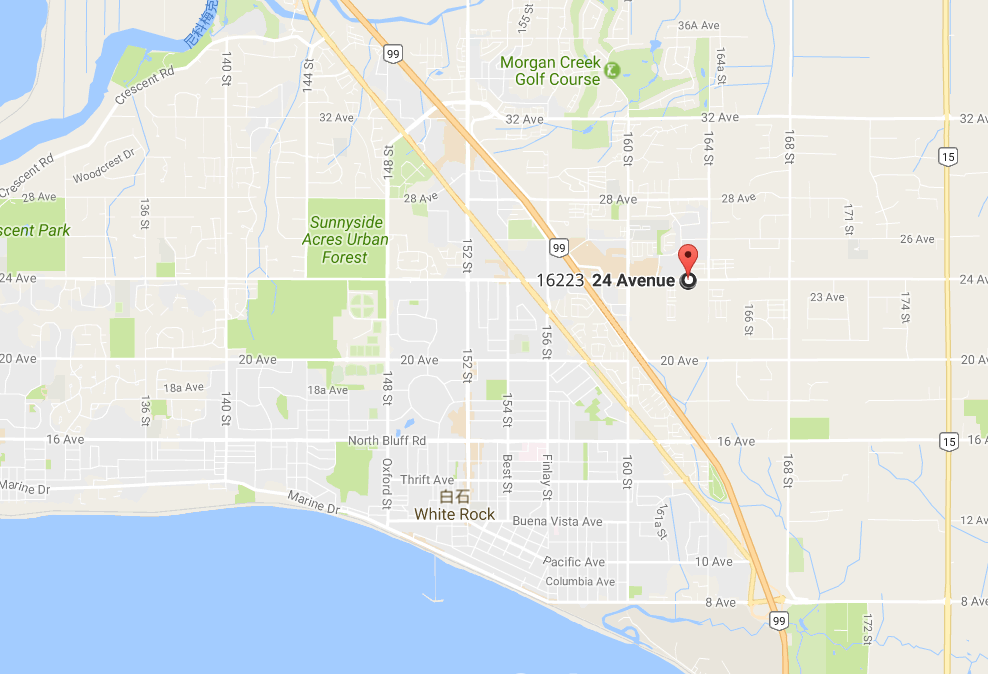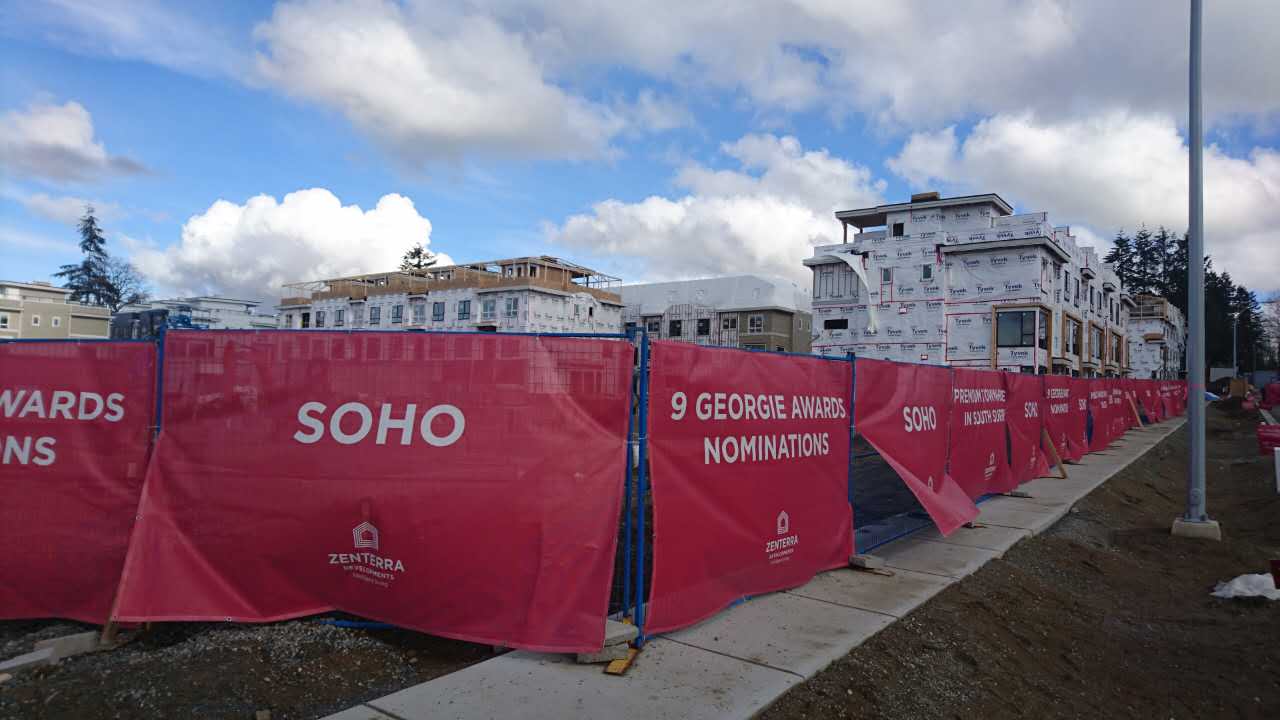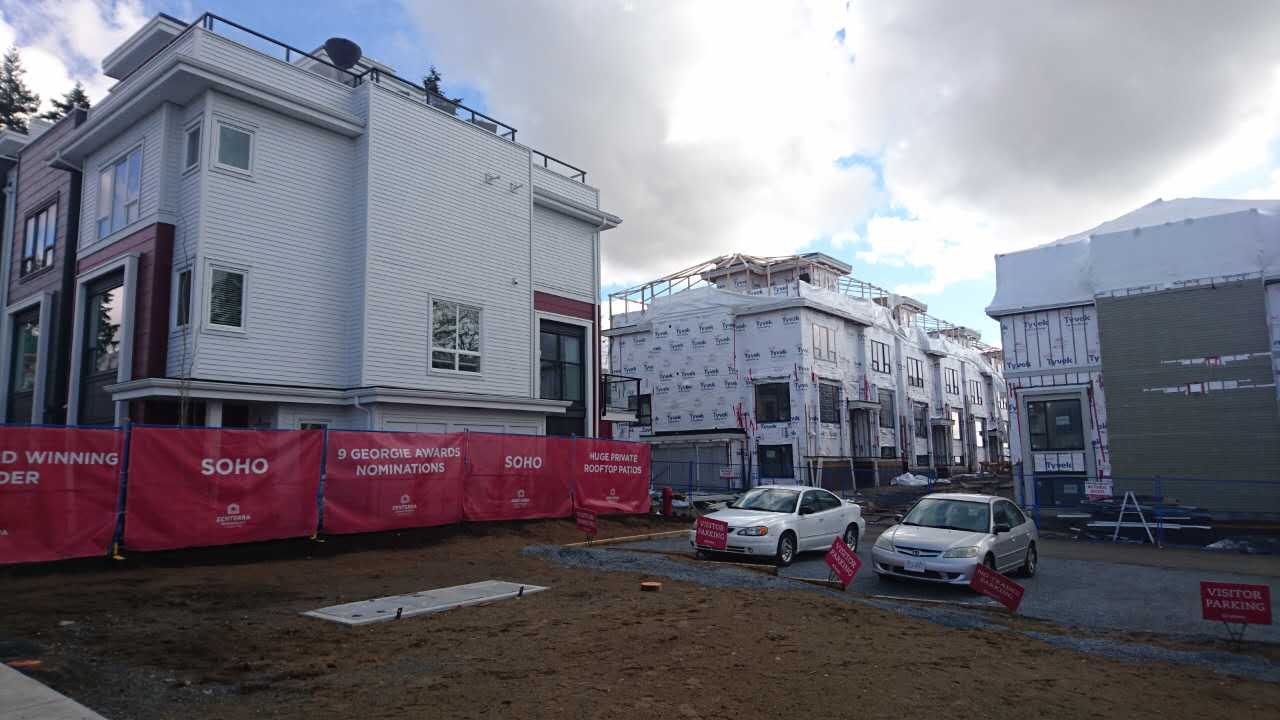 临街单位也不会很吵,避开了大马路。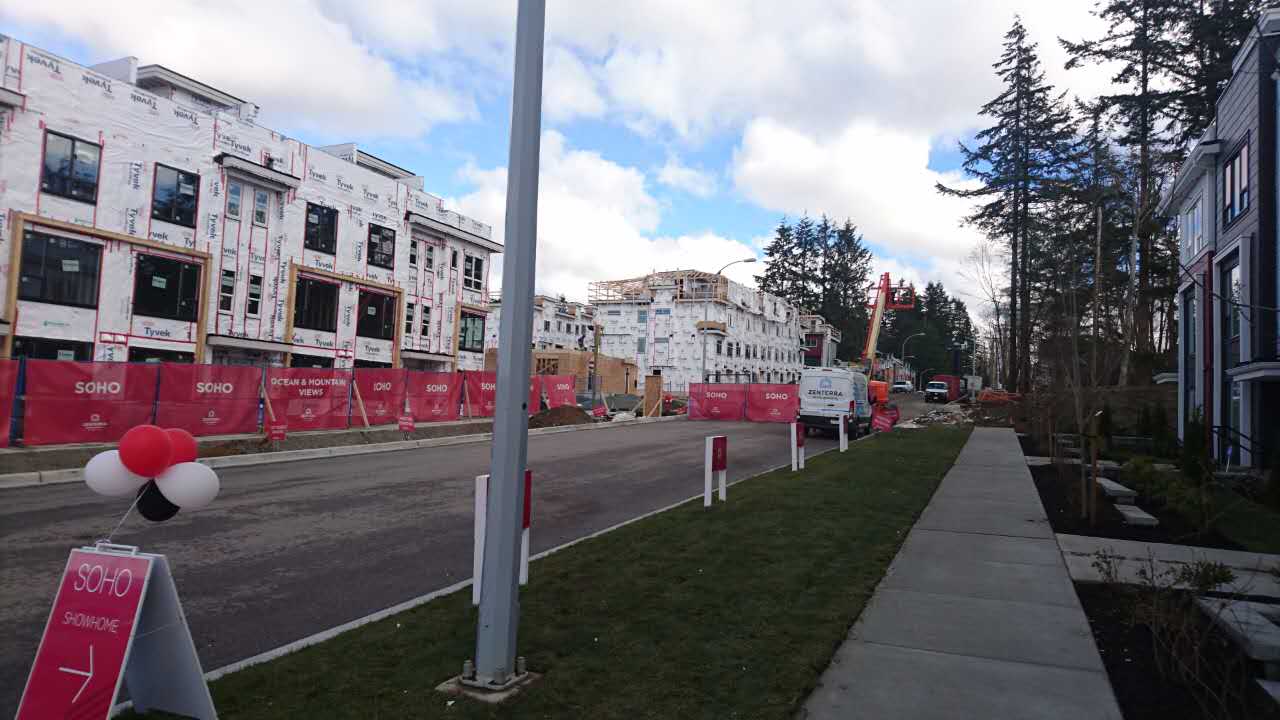 随着天车计划提上日程,南素里将成为大温地产市场又一个耀眼的明珠,而Soho South Surrey注定将成为素里城市屋设计建设和规划发展理念的典范,SoHo将让您重新定义南素里的印象!
南素里
South Ridge Club Grandview极致环境城市屋项目
Updated July 18, 2017
South Ridge Club is a new townhouse development by Adera currently under construction at Mountain View Drive, Surrey. The development is scheduled for completion in 2018. Sales for available units range in price from $599,900 to over $849,900. South Ridge Club has a total of 209 units, sizes range from 1382 to 1991 square feet.
Grandview是建立在Greenway和 Willsbrook 的一个已经充满活力的社区的基础之上,是South Ridge Club的第三个也是最后一个联排别墅项目。这些优雅的3,4和5间卧室的住宅面积约为1,350至2,000平方英尺,经过精心设计,旨在反映社会,积极和健康的室内/室外生活方式。
Experience a unique opportunity to live at South Surrey's newest townhome community, South Ridge Club. Close to schools, shops and cafes, these spacious and elegant homes offer views from covered rooftop patios, and are surrounded by abundant green space. At the heart of this experience is a private clubhouse, complete with an outdoor pool, full exercise room, lounge, kitchen and movie theater. Driven by a commitment to health and social well-being, South Ridge Club is a good life community designed for young families and active adults.
Building on an already vibrant community with Willsbrook and Greenway, Grandview is the third and final release of homes at South Ridge Club. These elegant 3, 4 and 5 bedroom homes, ranging from 1,350 to 2,000 square feet, are thoughtfully designed to reflect a social, active and healthy indoor/outdoor lifestyle.
Register Now
Features
Featuring authentic West Coast Modern design, locally sourced materials and environmentally sustainable architecture, the South Ridge Club is essentially an extension of your home. With a pool, hot tub, outdoor BBQ space, theatre room, lounge and more, you'll feel like you've got a personal vacation getaway right next door.
Outdoor Pool & Patio
Finesse your strokes in the heated outdoor pool, with lanes for swimming laps and a splash zone for kids to play.
Entertain year-round on the covered outdoor patio, with barbeque nook, green space, ample seating and a kids' play area.
Effortless Entertaining
Primed for serious socializing, the Fireside Lounge features a billiards table, cozy fireplace, full kitchen and banquet-ready dining area.
Keep Pace with a Healthy Life
The fully-equipped fitness centre features top-of-the-line cardio and strength-training equipment, as well as space for stretching, yoga and meditation.
Multi-Purpose Gymnasium
The 1,300 square foot gymnasium has ample court space with full access to indoor sports equipment.
南素里South Ridge Club Grandview极致环境城市屋项目
Updated July 19, 2017
Clayton Walk is a new townhouse development by Anthem currently in preconstruction at 18570 70 Avenue, Surrey. Clayton Walk has a total of 143 units.
The fourth townhome community in Anthem's Neighbourhood Series, this new community of two, three, and four bedroom homes is designed to meet the needs of growing families. On a quiet side street bordering a city park and forested trails, it's a short walk from a range of shopping, services, transit, and schools. The exterior of these homes features classic Prairie School architecture, with defined window elements, strong overhangs, and clean lines, bringing this elegant form together with function for our West Coast climate. The spacious well-planned interiors are designed for families: side-by-side garages, plenty of storage, conveniently placed powder rooms, and open spaces that encourage family to gather and make supervising the kids while multi-tasking a breeze. A thoughtfully designed amenity building with indoor and outdoor entertainment areas makes larger gatherings a four season affair.
该楼盘由著名建商Anthem打造,位于峥嵘发展的素里新区,周边密布繁华商圈,优美公园和完善的学校。这就是Anthem对此楼盘的设计理念—家庭社区。一个拥有野餐的公园,骑行的车道,能创造属于自己家庭独特记忆的社区,自住的优势已是不言而喻。随着大温中心地区的房产高度开发与趋于饱和,更多的开发与升值机会逐渐蔓延向更广阔的区域,而素里新区就是各大开发商同时盯上的一条潜水蛟龙。随着素里的商业发展蒸蒸日上,楼盘投资升值空间巨大,一期仅开放33个楼盘!
白石镇核心区域,豪华3塔楼综合社区,Foster Martin,面朝大海!即将VIP预览!
Updated July 19, 2017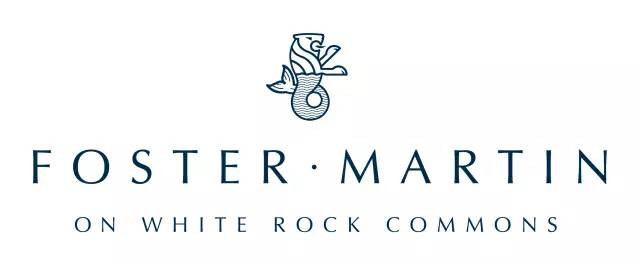 Foster Martin is a new condo development by Landmark Premiere Properties currently in preconstruction at 1484 Martin Street, White Rock. Foster Martin has a total of 334 units.
URBAN SOPHISTICATION, SEASIDE LIVING
Foster Martin will be an exceptional blend of uncompromised sophistication, urban connectivity and seaside living. Elegant architecture with views from every balcony of sunsets over the sea. A thriving urban community with everything you desire for mind, body and soul, near the beach. Two distinct lifestyle and design choices to define both your home and your sense of self.
That's freedom. And it's exquisite.
---
CITY BY THE SEA
Three blocks from the sea, Foster Martin's urban location in the heart of White Rock is steps from shopping, restaurants, and all the amenities of this thriving community.
---
---
THE ENVY OF THE LOWER MAINLAND
White Rock Commons, a new public plaza at Foster Martin for all to enjoy, represents a significant contribution to the future of White Rock and an anchor for the new urban centre currently planned by the city. With contemporary architecture, commerce and retail complemented by beautiful green spaces and public gathering places, Foster Martin on White Rock Commons is cultivating a vibrant urban energy in this city by the sea.
The community as a whole will enjoy the tranquil water features and pretty pathways providing access to the shops, restaurants and boutique wellness facilities of White Rock Commons. Living here means living well.
---
---
THE STUFF OF LEGENDS
A gleaming white, 500-ton boulder sits prominently on miles of sandy beach. So bright is the white rock that it was used by 19th-century sailors to guide them to shore. So prominent is the white rock that it is woven into the myths and legends of the local Coast Salish peoples.
That legendary white rock is now a modern-day beacon that shines luminously in its unusually sunny location, attracting bustling crowds to the pier and promenade that define seaside life here. A vacation destination since the turn of the century, holiday seekers came by train to visit the expansive beach and the celebrated pier, which opened in 1914. Both train and pier are still here today, and the holiday mood has never left.
It's a place where annual sandcastle competitions have garnered international attention since 1979. Where the biggest traffic jams are the lineups for fish 'n' chips and gelato by the pier. Where an urban sensibility exists for those who want it all – and all within reach of Vancouver's nightlife and cultural experiences.

坐落于白石镇核心区域的Foster Martin靠近白石海滩。白石镇三面环海,气候宜人,是加拿大著名的度假胜地。梦幻般的白石海滩,是休闲居住和度假的不二之选。Foster Martin 由三栋后现代主义风格的高层公寓组成,共334个单位。海浪形大厦墙体的独特设计与周边环境完美融合在一起。
设备齐全的健身房供您尽情挥洒汗水,安静的瑜伽室适合放松筋骨,还有会所厨房可以让您与您的宾客共享美食,我们的共享班车服务还可以带您到海边漫步享受近距离的海风。 Foster Martin 以无与伦比的奢华之选重新定义了海滨生活的奢华内涵,能满足您不同的生活风格与欲望,修身健体,享受生活乐趣,活出丰盛人生。